Amazon.com recently launched Amazon Grocery by offering a $10 discount on purchases of $49 or more. I took the bait.
Amazon's plan
Judging from Amazon's initial grocery offerings, I suspect their plan goes something like this:
offer only goods that can be warehoused (no perishables)
undercut traditional retailers on high-margin goods such as organics, naturals, and upscale brands (e.g., Annie's Homegrown, Bob's Red Mill, Newman's Own, and Tom's of Maine)
offer a greater breadth of products than traditional retailers can stock (the long-tail play)
offer customers free "super-saver" shipping to eliminate shipping as a customer concern
sell products in bulk-quantity packs to reduce Amazon's internal shipping costs
Prices and bulk packs
For pricing perspective, I grabbed the receipt from my most-recent trip to Giant Eagle, the local grocery store. Generally, when both Amazon and Giant Eagle offered the same product, Giant Eagle priced it significantly higher, in one case more than twice as high. For example, here are four items from the receipt:
Amazon sells the first three products in packs of 12; the last product, in packs of 6. For the Mac & Cheese and Red Hot Blues chips, I don't mind the bulk packaging at all: my family goes through this stuff quickly. The last two items, however, I probably won't buy from Amazon. We don't eat them fast enough to make storage practical.
Test run reveals flaws
Tempted by the $10 discount offer, I placed an order with Amazon Grocery. Here are the products I ordered:
Bob's Red Mill Large Flake Nutritional Food Yeast, 8-Ounce Packages, Pack of 4 – Yes, I actually like this stuff.
Coomb's Maple Syrup, Premium Grade B, Organic, 32-Ounce Jug – Grade B refers to darkness, not quality, and Grade B rules: its mightier maple flavor blows away the comparatively wimpy Grade A. (Amazon's price was $13 per quarter-gallon, which is actually a better deal than the $28.55 I paid for a half gallon of organic Grade B when I last ordered from an online supplier.)
Annie's Homegrown Organic Shells with White Cheddar Mac & Cheese, 6-Ounce Boxes, Pack of 12 – My wife loves this mac & cheese, and the boxes are small, so a 12 pack is just about perfect.
Today, the order arrived.
There was one mistake. Amazon sent me the whole-wheat version of the mac & cheese, when I had ordered the regular version. Oops.
It was easy to see how the mix-up happened. The box that contained the 12 pack was clearly labeled by the manufacturer as "organic whole wheat shells & cheddar." Here's a photo: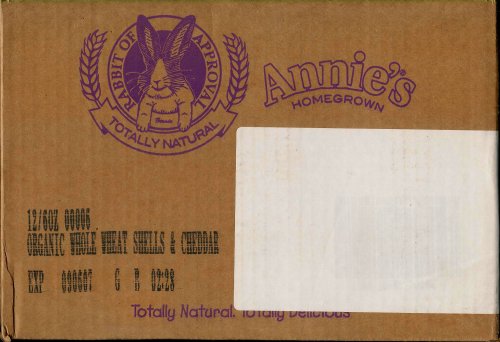 But somebody at Amazon had applied the wrong bar code to the box: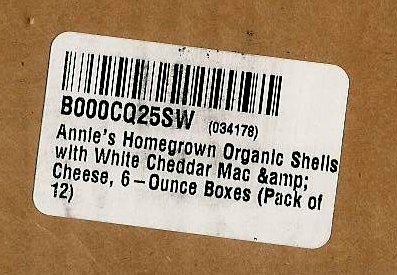 (The & that escaped from the Land Of XML is a nice touch, too.)
Mislabeled as it was, the whole-wheat 12 pack was just waiting to cause problems for a customer like me.
Is Amazon taking Grocery seriously?
When I called Amazon about the order mix-up, I was curious about how they would handle it. Amazon Grocery is a complex new offering, and there were bound to be mistakes. The only question was whether Amazon was prepared to correct the mistakes in a way that made me feel confident in getting what I ordered if I were to purchase groceries from them again.
In this case, they did. When I told the customer representative that I had been shipped the wrong box, he said that he would put in a "reorder" for the correct mac & cheese and send it to me via next-day shipping. As a bonus I could keep the 12-pack of whole-wheat mac & cheese that had been mistakenly sent to me. I doubt a typical grocery store would be so willing to eat the cost of its mistakes.
When I told the rep that the box I had received had been mislabeled at the warehouse and cautioned him against repeating the mix-up by sending me another mislabeled box, he said he would make a note of my concern. He also said – and I found this very interesting – that Amazon's policy is not to take action until they receive two complaints about an item being mislabeled. (I hope there is some math behind that policy.)
Will I receive another mislabeled box? Time will tell.
Update 2006-08-04: As promised, Amazon sent me a replacement package, which arrived the next day and contained the correct product.
Cautious optimism
All in all, I'm upbeat about Amazon Grocery. Amazon stocks many products I can't find at the local grocery store, and where there is product overlap, Amazon seems to offer a compelling price advantage. No, Amazon won't replace regular trips to the grocery store, but it probably will change my buying habits for the products that grocery stores routinely mark-up through the roof. I can't see that as anything but good.