Yesterday, in the middle of a beautiful, sunny afternoon, a storm front came out of nowhere and cut across southern Pittsburgh. I was in my backyard at the time, and I could tell by the sudden icy wind that something unusual was happening. A few moments later I heard a sharp thwack! as something struck my deck and bounced into the yard – a nickel-sized hailstone. Then, another one. Thwack!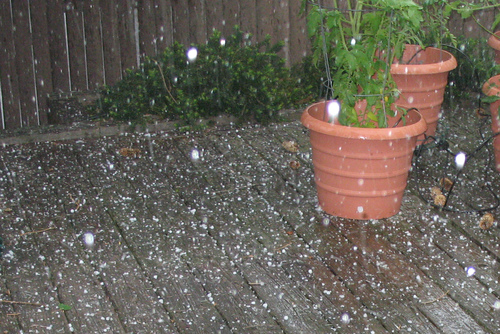 :http://www.flickr.com/photos/tmoertel/sets/72157600799051407/
Then the hail fell like rain – thwack! thwack! thwack! – faster and faster, until the air was filled with icy missiles, some bigger than quarters, streaking to the earth around me. As the deluge intensified, I was deafened by the sound of a million berserk carpenters hammering away at my home, my deck, and my garden.
In a few short minutes it was over. The ground was littered with ice, leaves, and small branches. My home's window screens had holes punched through them. My garden was torn to shreds.
If you haven't experienced the combined effects of hailstones and high winds, count yourself lucky.
Photos
If you wonder what the storm and its aftermath looked like, I put a set of hailstorm photos on flickr. My neighbor and fellow programmer Casey West had his new iPhone handy and snapped some great photos, too.
I also captured the storm on my front-yard webcam, which looked into the oncoming hail. For reference, here is what the webcam saw just before the storm: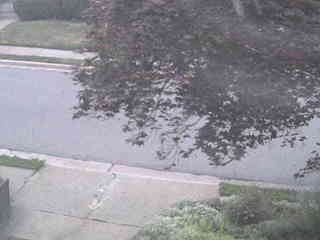 If you look in the upper-right corner of that photo, you can see the first few hailstones streaking into the frame.
Then, the storm hit in force: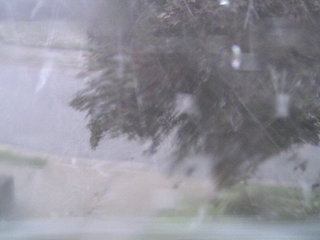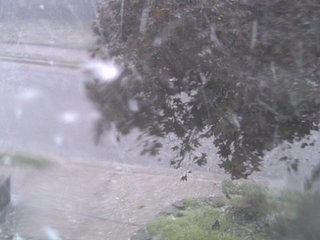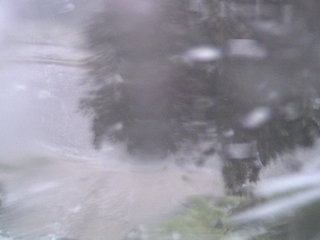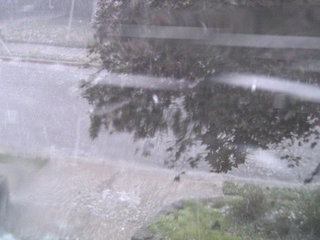 The wind was so strong that it drove the hail horizontally at times.
When the storm ended, just 3 and a half minutes later, the ground was littered with ice. In the photo below, that's not snow in the driveway: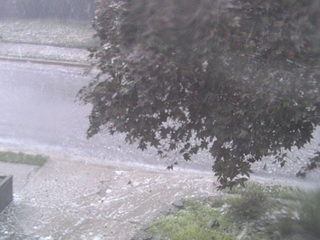 In the garden, it was easier to see just how much ice the storm had dropped upon us: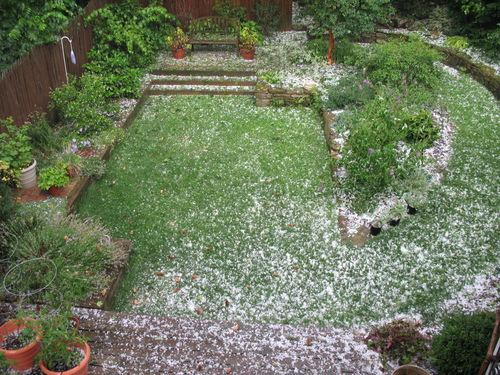 :http://www.flickr.com/photos/tmoertel/801896844/in/set-72157600799051407/
The garden, itself, was shredded: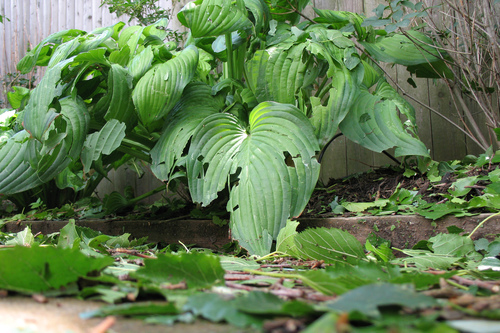 :http://www.flickr.com/photos/tmoertel/810190646/in/set-72157600799051407/
Amazing.